Home > Reviews > Small Scale >
Revell 1/72 scale 8.8cm Flak 36 Plus Kommandogerat 40, Sd.Ah.52 and Sd.Ah. 202 trailer. Kit No. 03174
8.8cm Flak 36
Plus Kommandogerat 40,
Sd.Ah.52 and Sd.Ah. 202 trailer
Revell, 1/72 Scale
Reviewed by Glen Porter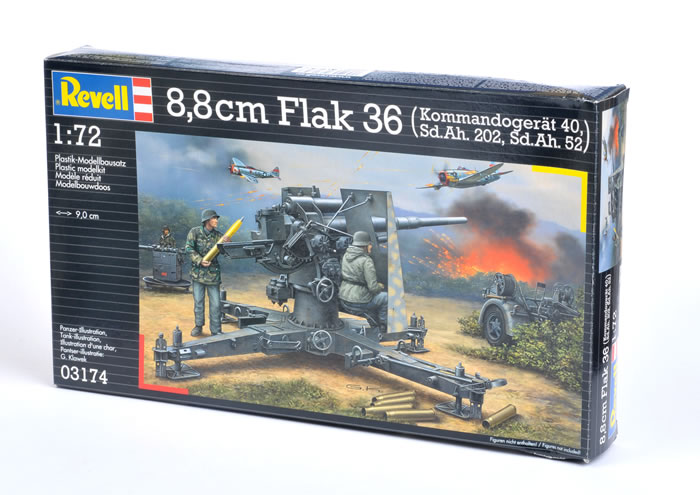 Summary
Stock Number and Description

Revell 03174 8.8cm Flak 36.

Scale:
1/72
Media and Contents:

200 light blue/grey coloured plastic parts on 5 sprues, decals for 4 models, a 12 page fold-out instruction booklet with parts plan, 44 build diagrams and 2 pages of painting/decal instructions.

Price:

Review Type:

First Look

Advantages:

Well moulded, highly detailed and accurate. Good instructions, decals and interesting colour schemes.

Disadvantages:

No semi-automatic loading system, poor representation of tyre tread on road wheels, some flash and one sink mark.

Recommendation:

Far superior to the old Hasagawa kit in every way.

Background
The 88mm anti aircraft gun was Germany's main anti-aircraft weapon throughout the Second World War. Developed from a similar 75mm gun, it was also found to be an exceptional anti-tank weapon and in fact many of the late war German tanks had a gun that was also a direct development.
---
The Model.
As far as I know, the only other 1/72 scale injection plastic 88 was from Hasagawa quite a few years ago and they produced a Flak 18 and also a Flak 36. The main difference between them was the Flak 36 had a multi piece barrel which allowed the worn-out bits to be replaced more easily. The 18 had single road wheels at the front and duals at the back (Sd.Ah.201) while the 36 had duals at front and rear (Sd.Ah.202). The Hasagawa 36 has been criticized for having the same Sd.Ah.201 as the Flak 18. However, my one reference book tells me that there was such a thing as a Flak 18/36 which had the 36's multi piece barrel but was mounted on the early 6-wheeled Sd.Ah.201.
The other criticism of the Hasagawa kits was a lack of detail, which I thought a bit unfair until I saw the Revell kit. Oh dear.
The Revell kit comes with 200 parts on 5 sprues, A to D with B duplicated and in sky blue plastic. There is a small amount of flash here and there and a one minor sink mark. The A sprue carries most of the gun and mount parts and for some strange reason there is a Flak 18 barrel. There is also an extra gun shield with extended width on one side and I notice that one option in the colour schemes uses this shield and the Flak 18 gun. The cruciform mount is very accurate for the late Sd.Ah.202 trailer and can be modelled in the transit or firing position.
The two sprue Bs cover the two four wheeled dollies that, when fixed to the gun mount, form the Sd.Ah.202 trailer. These two dollies are almost identical with both having steering but the one on the rear would have the steering locked and a crew seat mounted on top.
Sprue C is the Kommandogerat 40 and Sd.Ah.52 of the title which is a gun direction and range finding system similar to that used in a warship and would be connected to up to four guns by cable. Again this can be modelled in the transit or firing position and has a trailer similar to those used for 20 and 30mm AA guns.
The three 88mm marks were produced - the Flak 18, Flak 36 and Flak 37, could all be fitted with a semi-automatic loading system. Photos show that not all were fitted with it however and after asking on Missing-Lynx, I was told that it depended on what the gun was going to be used for. Anti-tank guns were firing almost horizontally and the crews found they could load quicker by hand while those in the anti-aircraft role, which often faced up to 90% from the horizontal, it was quicker to use the loading system.
The Hasagawa kits come with this loading system although the box art shows both in the anti-tank role. The Revell kit, both the box-art and contents, show it to be in the anti-aircraft yet in does not come with this system. Odd that.
Faults? All kits have faults but this kit has none that are major. I guess the worst is the wheels that have tread on the side-walls which come almost down to the rims. I think some of this tread can be filed off to make them look more normal. As mentioned above, there is a small amount of flash on some of the smaller parts and I could only find one sink mark but it is on one side of the breach so it will have to be removed.
The instructions are as we've come to expect from Revell with good clear, although some what cluttered, build diagrams and four colour options.
The first is from a Herman Goering Flak Reg. with no location or time in Panzer Grey with a lighter grey shield with even lighter grey spots. The next is a very attractive DAK gun in sand with a red brown splinter pattern dated 1941. The last two are both in Russia and both in overall Panzer grey, the first is the one with the Flak18 barrel and wide shield.
---
Conclusion.
As good as I thought the Hasagawa kits were, this kit from Revell is a big improvement in both detail and accuracy. Now all we need is a vehicle to tow it and a gun crew.
So how about it Mr. Revell? Any time soon will do!
---
Text by Glen Porter
Page Created 17 April, 2011
Page Last Updated 17 July, 2011