Home > Reviews > Small Scale >

Roden

1/72 scale Kit No.

RO 734

- British Armoured Car (Pattern 1920 - modified with sand tyres)
British Armoured Car (Pattern 1920 - modified with sand tyres)
Roden, 1/72 scale
Reviewed by Graham Carter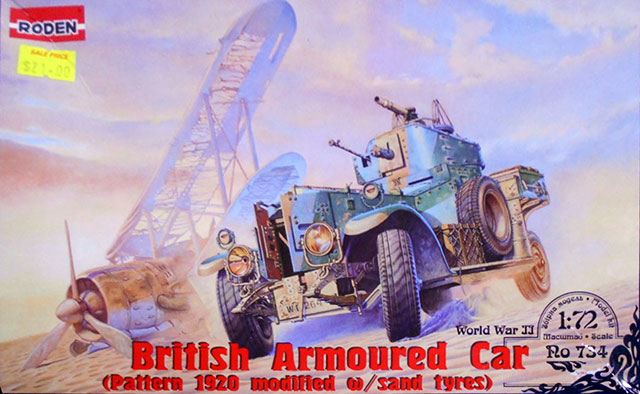 Summary
Stock Number and Description

Roden Kit No. Ro 734 - British Armoured Car (Pattern 1920 - modified with sand tyres)

Scale:
1/72
Media and Contents:
See details below.
Price:

£16.99 EU price (£14.16 Export Price) plus shipping available online from Hannants

and hobby retailers worldwide.

Review Type:
First Look
Advantages:

Great subject, well detailed, nicely moulded, and great cover illustration and painting details.

Disadvantages:

Flimsy box, some parts confusion, and some tiny parts will need careful trimming and preparation

Recommendation:

This is a lovely kit of a great subject that will reward care in preparing part, dry-fitting and careful painting. I bought this one myself and would get a couple more if I see them around.

Background
Most modellers will immediately recognise the nice image on the box top as the Rolls Royce AC used over a very long period by the British Army, but it is not until one reads the blurb on the instruction sheet that others will discover the origins of this vehicle (possible copyright issues?).
Designed in WWI, the Rolls Royce was still in use in 1945 after service throughout the Empire and in North Africa, Middle and Far East for 'peace keeping' and attacks on the enemy.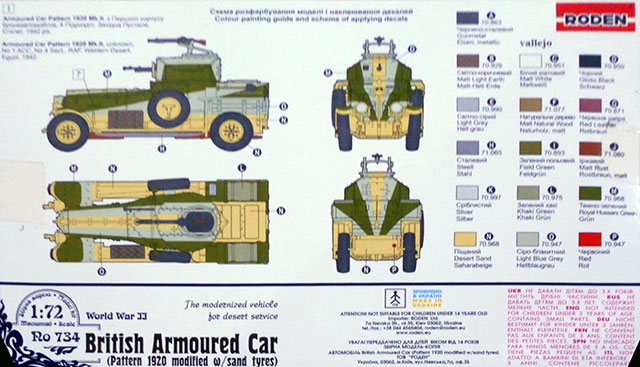 The basic design went back to 1914 when the authorities in the RNAS realised that the RR chassis was ideal for mounting an armoured body and MG-equipped turret. Successive developments led to the 1920 Pattern which had a slightly higher turret, disc wheels rather than spoked ones and louvres in the radiator doors.
The later 1924 Pattern had revised square-sided turret with Boys anti-tank rifle armament, Bren mg and smoke dischargers.
Many vehicles were subject to field modifications and a host of nice little collection of vehicles can be built by adding and cross-kitting bits and pieces. Roden have produced a couple of different versions of this kit, this one being the 'modernised for desert service' edition with the altered turret, radiator doors and sand tyres.
---
FirstLook

Housed in Roden's typical flimsy end-opening box with a great illustration of a desert car on the top and colour details on the rear, the contents are sealed in a plastic bag with seperate 8-page A5 instruction sheet.
There are two large sprues containing most of the body and turret part, plus two smaller identical sprues for the sand wheels and lights for this version, plus an even smaller sprue attached to one of the others which has the armament addition for the new turret. The small decal sheet has markings for two examples. The plastic is Roden's usual soft pale grey stuff that needs sharp side-cutters to remove, plus a modicum of clean-up as parts have a fine seam around them.
There are a number of parts not required for this build such as 5, 6,18 and 48 , but none of this is painted out on the parts map. In addition part 4E in stage 6 does not exist on any of the sprues but is part of the spare wheel assembly! Instead, in stage 6 parts 4E is actually 6E and has to be folded(!) and glued around 5E - very confusing, and you have to do it twice! This could be a lot clearer.
The modeller is also asked to add the wheels and tyres in stages 3 and 4 - I wouldn't! They can and should be left until the end of the build to save getting in the way - however a trial fit may be done to assist in alignment of the chassis and in getting all wheels to touch the ground.
Parts are well moulded and contain some excellent detail, both in parts and moulded into the structure.
Unlike many Roden kits ( particularly their German eight-wheel armoured cars) the chassis is relatively easy to assemble and not over-engineered and still looks convincing. However the latticed tool boxes are overly complex for something so small - six parts for a box 12x5x6mm is a bit over the top! This could be a result of limitations in Roden's moulding technology. Someone like Hauler should do these in PE. Besides these points, it is still a really nice rendition of this vehicle in small scale. I would recommend the use of mini-lenses for the headlamps.
---
Marking Options
Two schemes are provided for in the decals.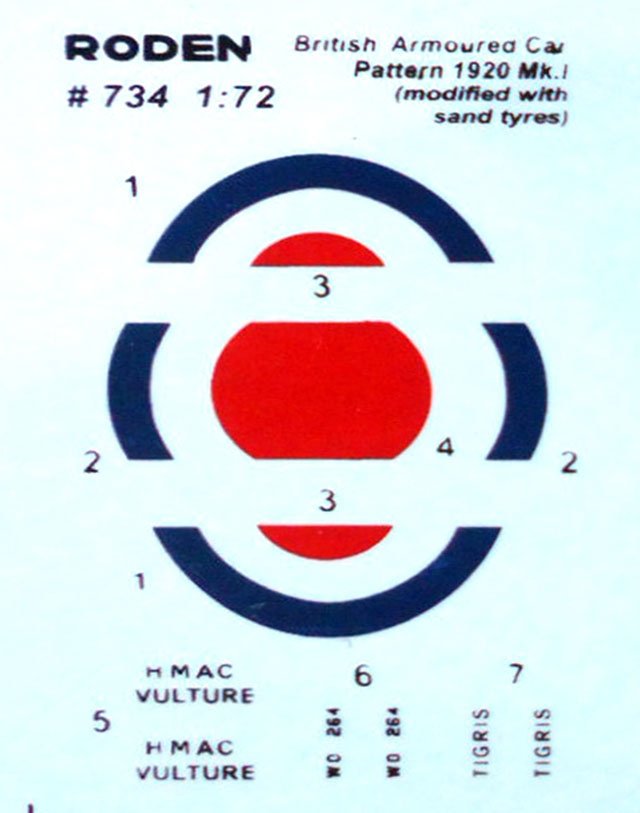 One is easy and one much harder but more interesting!
"Vulture" of 1ACC, RAF, Iraq in 1936 in overall army bronze green, with a giant roundel on the turret top, and

an unknown vehicle form No1 ACC RAF in Egypt in 1942 in the complex Caunter scheme of sand, green and blue-grey - a very difficult masking job on such a small vehicle but a rewarding model will result. A four-view colour scheme is shown in colour on the rear of the box.
---
Conclusion
I would recommend this kit to anyone interested in small-scale armour, especially in desert usage.
Purchased by the reviewer.
Text and Images by Graham Carter
Page Created 20 September, 2020
Page Last Updated 11 October, 2020