Comets in WW2 and Cold War
Star Decals, 1/72 scale
Reviewed by Peter Brown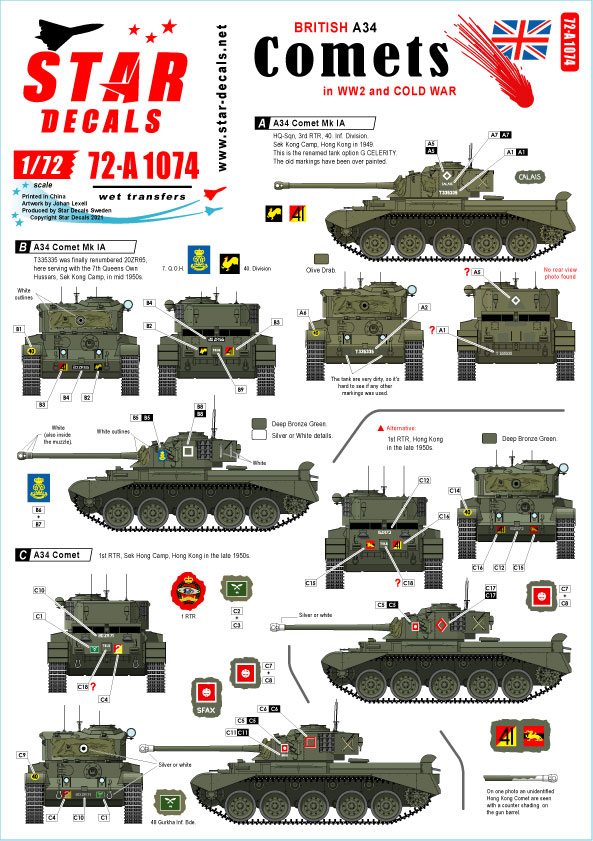 Summary

FirstRead
Star Decals has released a new decal set suitable for the Vespid 1:72 Comet kits covering a range of eras. Decals are clearly printed as usual, with detailed instructions in colour showing the paint schemes and marking placements.
Two of the markings are for wartime vehicles from 11th Armoured Division, who were the first to use this tank. One is CELERITY of 3RTR - of which more later... - and the other a fairly plain subject from 2nd Fife & Forfar Yeomanry.
Next chronologically is IRON DUKE II from 1RTR in the immediate post-war era. For something different, this could be depicted "bulled up" for the victory parade in Berlin in September 1945.
Comets went on to serve in BAOR, one such is a tank from 10th Hussars with 2nd Infantry Division in 1950.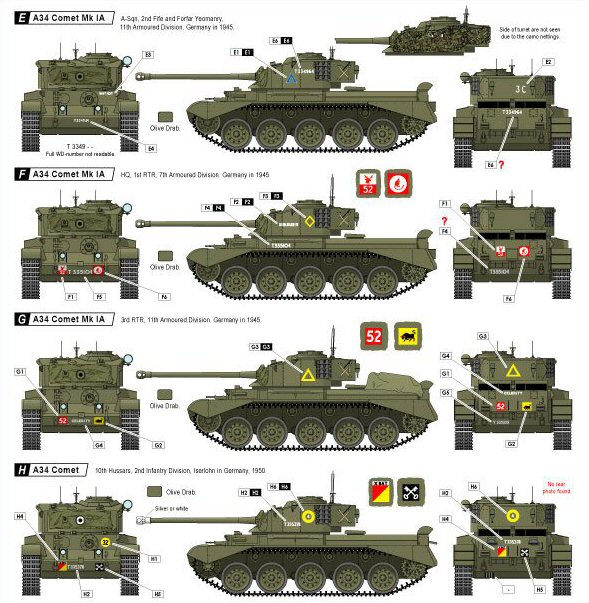 Back to CELERITY. Post-war this tank went to Hong Kong where it was renamed CALAIS, and may be shown it was in 1949. Later it was given a new serial number in the post-war ZR series and served with 7th Hussars.
Two other tanks are ones with 1RTR in the late 1950s with different markings including large cap badges.
Some variety here, either as individual subjects or perhaps a history of one.
Star Decals are available from several suppliers, check with them or see their website star-decals.net for stockists and prices. They regularly release new sets and reprint older ones so it is worth checking on them.
Many thanks to Johan Lexell for the sample
---
Text and Images by Peter Brown
Page Created 23 May, 2021
Page Last Updated 23 May, 2021