M4A2 Tarawa
by Cookie Sewell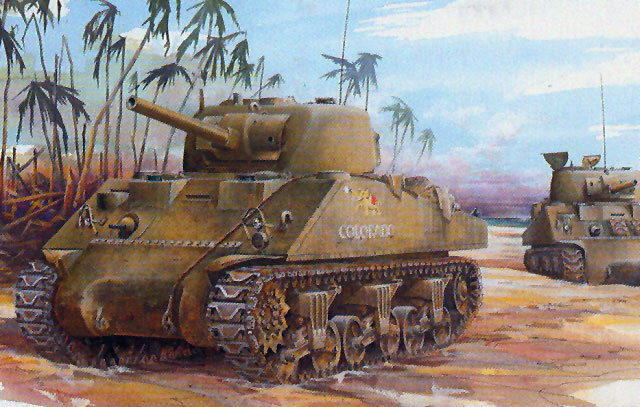 Summary
Stock Number and Description
Dragon Models Limited 1/35 Scale '39-'45 Kit Number 6062; M4A2 Tarawa
Scale:
1/35
Media and Contents:
395 parts (329 parts in grey styrene, 43 etched brass, 20 clear styrene, 2 DS plastic track runs, 1 length of twisted steel wire)
Price:
USD$34.99 available online from Mission Models
Review Type:
First Look
Advantages:
First integrated and accurate mid-production Sherman kit on the market; very nicely done "low bustle" turret; track problems appear solved
Disadvantages:
Will not assemble itself (okay, no model kit will!)
Recommendation:
Recommended for all "Shermaholics" and USMC fans


Dragon's 1/35 scale M4A2 is available online from Mission Models
Also see Steve Zaloga's build in Missing-Lynx's Gallery!
FirstLook
For many years the earlier models (early being defined as "Direct Vision" 56 degree hulls and mid-production as non-"direct vision" 56 degree hulls) of the M4 series of US medium tanks have been ill served as model kits. There was an ancient Airfix M4 kit of a mid-production M4 but it was not really very good. Most of the early kits were limited to M4A1 cast hull types, and not the M4, M4A2 or M4A3 types.

Some years ago Tamiya offered an "Early Production" M4 but it was basically little more than a new hull top for its older M4A3 47 degree late production hull with a slightly modified turret. The lower hull was still that of the M4A3 with late production bogies and also no sponson floors.

The M4A2 has been very poorly served, as all kits offered thus far have been the 47 degree (late model or "wet stowage") hulls but with numerous errors in the Academy kits and an original Italeri one which was actually an M4A3. So far the best M4A2, albeit the late production 76mm one with the 47 degree hull, was the one from DML as its Soviet offering.

DML has finally – after many years of advertising the M4A2 mid-production tank in its catalogue – delivered, and the model is one of their best. Building on their recent M4A1 and M4A3 kits, this one uses the "A" or detail sprue from those kits (labeled as "M4A2/A3"), the "C" or clear parts sprue, and the two "V" sprues from the M4A1 76mm kit with a new hull, turret and other details.

What the modeler gets is a mid-production 56 degree hull M4A2 with welded drivers' hoods and the "low bustle" turret (no loader's hatch) with the M34A1 gun mount with wide cast mantelet. The wheels are the pressed steel welded type with backing plates provided for the road wheels and idlers, and a choice of either "cast" or "disk" driver rings of which the "cast" rings are more accurate for this version. The VVSS bogies are those with the "flat" return roller mounts and also pillow blocks to raise the idlers. A "soft" or early cast transmission cover is provided separately for the hull. (Yes, like all DML kits it HAS sponson floors in it.)

The turret is very neatly done and makes extensive use of slide molding to capture the shape of the turret, especially around the pistol port on the left side. The M3 gun barrel is also molded with a hollow bore. Likewise, the coaxial machine gun and even the turret spotlight are also slide molded for accuracy. All details except the ventilator are separate items on this turret, so it would be hard to ask for more in styrene plastic.

The hull is correct all the way around, with a correct lower hull with twin access plates to the two GMC diesel engines. The upper hull is beautifully done with scale weld bead that stands proud of the hull – no more "trenches!" The A2 engine deck comes with separate hatches but no interior (and I was wondering what to do with that Tank Workshop GMC power pack for a mid-production A2 that I have had sitting around for years...) Filler caps may be shown in either open or closed positions, as can all of the periscopes and crew hatches.

The kit does not come with a commander's machine gun, but most of the Marine tanks do not seem to have used them early in the war in the Pacific, so this is not a flaw per se.

From information I have on this kit, DML ran into problems with the tracks as there was no good way to make a set of "Magic Track" – DML's current preferred method – that would capture the three-piece design of the medium tank tracks. The solution – which should be acceptable to most modelers as well as win DML friends with many frustrated souls – was to make them in DS plastic, DML's gluable vinyl type tracks. The type selected with this kit is the T54E1 style with solid steel chevrons and openings inside the ends, and thanks to the flexible DS plastic it has also captured the end connector details as well. Two links are used for connection at the ends, so one link could be trimmed out to get a tighter fit if needed.

The etched brass supplied covers mostly small details such as the sand shield attachment points along the sides of the hull, headlight guards, and fender components as well as the commander's "blade" sight. No tie-downs or tool straps are supplied. Note that to attach the tools holes must be opened up in the hull from the inside, and there is a small guide given in Step 7 in the directions as to which holes are used. Also three factory casting identifiers are included for use on the rear of the turret, but they are not keyed to any specific tank nor any variations in the turret design.

Markings are included for six tanks from C Company 1st Tanks (COLORADO, COBRA, CUDDLES, CHARLIE, CANNONBALL and CONDOR) and one from D Company (DESTROYER) of which the latter also carries aircraft-type "stars and bars" insignia. Design credit is given to Mike Canaday and Pawel Krupowicz.

Overall, this is a great effort and captures its subject very nicely. DML should be congratulated for getting more of the A2 right than anybody else.

---
Sprue Breakdown
A 96 hull details (A2/A3)
B 50 Low bustle turret with M34A1 gun mount
C 20 Clear styrene
D 18 56 degree welded hull
F 2 DS plastic track runs
G 1 "round nose" transmission cover
S 1 twisted steel wire
V 81x2 VVSS flat top/pillow block suspension with pressed/welded wheels
X 1 Lower hull pan - M4A2
MA 43 etched brass
Thanks to Freddie Leung for the review sample.
Text and Images by Cookie Sewell
Page Created 08 October, 2006
Page Last Updated 08 October, 2006