Home > Reviews > USA > Dragon Models Limited 1/35 scale '39-'45 Kit No. 6511; M4 Sherman 75mm Normandy
M4 Sherman 75mm Normandy
Reviewed by Cookie Sewell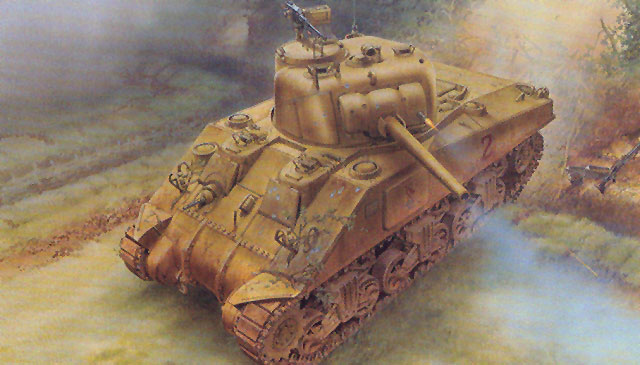 Summary
Stock Number and Description
Dragon Models Limited 1/35 scale '39-'45 Kit No. 6511; M4 Sherman 75mm Normandy
Scale:
1/35
Media and Contents:

655 parts (581 parts in grey styrene, 49 etched brass, 22 clear styrene, 2 DS plastic track runs, 1 twisted steel wire)

Price:
estimated price US $49.95
Review Type:
First Look
Advantages:

First "straight Sherman" kit from DML; new parts provide lots of options, as well as more "mix and match" bits for the true "Shermaholic"

Disadvantages:

Nothing major noted

Recommendation:
Highly Recommendedfor all Sherman and ETO fans

FirstLook
When the US Army came ashore in Normandy in 1944, nearly all of the tanks used were either M4 or M4A1 Medium Tanks. This was primarily due to the scope of Operation Overlord and an attempt to minimize the number of parts and assemblies which would be needed to keep the tanks running. Since the M4 and M4A1 shared everything except for the upper hull and some internal fittings (e.g. firewalls, bulkheads) this was a good plan and worked well in keeping the force going.

Most of the tanks which came ashore with the three main armored divisions of those days – the oversize 2nd and 3rd Armored and the new organization (three tank battalions) 4th – were equipped with these tanks, as were the tank battalions assigned to infantry divisions or the independent tank battalions assigned to the army groups. It was only later on that M4A3 series tanks began to arrive, as well as from late July 1944 on that the 76mm tanks also began to enter service.

DML has now done a "straight" M4 of this period, and it is an outstanding job. It has the "low bustle" 75mm turret with an M34A1 gun mount with "ears" on the sides of the tube, six applique armor panels (turret, driver's and radio operator's hatch mounts, and three hull plates) and also the "five spoke" welded wheels common to these tanks. The modeler also has a choice of either "six spoke" idlers or the pressed/welded idlers (more common with this road wheel option) and either "plain" or "fancy" driver toothed rings. The kit thankfully comes with DS plastic single track runs of T51 irreversible pad rubber faced track. While they only have a thin cardboard backing, the ones in the review sample arrived straight and true with no bent teeth.

The kit also sports a new-from-the-ground-up hull with a wide number of options for things like grouser compartment vents, either a cast or three-piece transmission cover, but most of the usually interchangeable detail parts (e.g. fender tips) are only brass in this kit. It does come with a very complete representation of the grillework under the air intake cover and also under the rear lip of the hull above the exhaust outlets.

A new "first" for the earlier series of Shermans is a brand-new M2HB .50 caliber machine gun and mount for use on the commander's split-hatch ring mount. The weapon comes with an optional position loading cover, separate "spade" grips and a "slide molded" hollow bore. It also has by far the finest (as in thin) protective guards over the viewer mounts for the hatches and the turret, which puts most of the etched brass parts to shame (and as a result the latter are not included in this kit.)

Some things do not change, and the kit does include the familiar M4A2/A3 basic detail sprue of tools and fittings as well.

Technical assistance was provided by Pawel Krupowicz.

Surprisingly, with the wide variety of markings these tanks bore at that time only two options are provided in the kit: C Company, 70th Tank Battalion, Utah Beach D-Day 1944 (CANNON BALL, White 2); and 37th Tank Battalion, 4th Armored Division, Brittany 1944 (TONTO with indian head cartoon). A nice set of Cartograf decals is provided for these two options.

Overall this a great kit and one which nearly completes the DML M4 family. It should be popular with Sherman fans as well as provide "mix and match" with other kits.

Thanks to Freddie Leung for the review sample.
---
Sprue Breakdown
A 95 M4A2/A3 hull details
B 49 M34 and M34A1 gun mounts
B 57 M4 low-bustle turret with cast "soft" transmission cover
B 74 M4 late model high bustle turret
C 29 M4A1 DV stern plate and air filters
C 22 Clear styrene
D 16x2 VVSS - five-spoke welded wheels with "upswept" return rollers)
E 23 M4 Normandy hull and engine deck details, M34A1 "eared" mantlet
E 9 M4 "three-piece" transmission cover
G 25 M4 Normandy detail parts and hatches
H 1 M4 56 degree upper hull
J 8 M2HB .50 caliber and mount
S 1 twisted steel wire
V 89x2 VVSS - flat top/pillow block return rollers with pressed/welded wheels
X 1 M4 type lower hull pan
Y 2 DS plastic T51 rubber block track
MA 46 etched brass

Thanks to Freddie Leung for the review sample.
Text and Images by Cookie Sewell
Page Created 1 February, 2009
Page Last Updated 1 February, 2009