M5 and M5A1 Stuart Light Tank
by David Doyle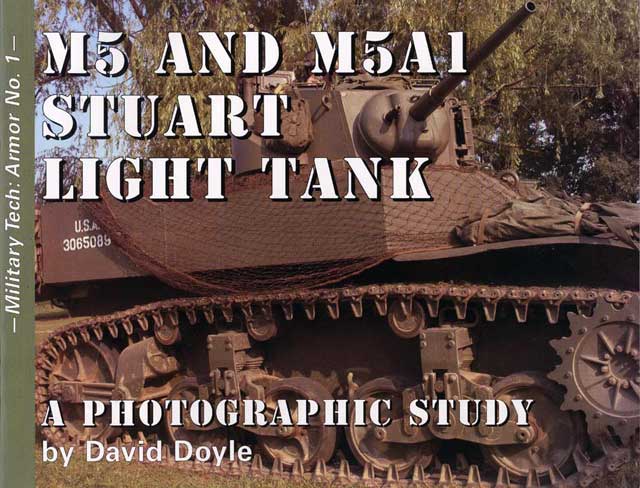 Reviewed by John Prigent

Summary
| | |
| --- | --- |
| Publisher and Title | Military Tech: Armor No. 1 – M5 and M5A1 Stuart Light Tank, by David Doyle, Crooked Creek Publishing LLC for Stevens International |
FirstRead

This is a nice photographic study of the Stuart M5A1, with a few wartime photos of the M5 for good measure.

It begins with 12 pages of WW2 monochrome shots, nearly all M5A1 though the two right-hand photos on page 5 are M5s despite their captions. Here there's a good mix of detail views and in-the-field photographs, and 1st Marine Tank Battalion's fitting of a flamethrower in the bow gun position is shown by 3 detail photos as well as an in-action shot.

The colour section begins with 3 WW2 photos and then there are 15 pages of detailed closeups of restored M5A1s with the motor, hull and turret interiors well covered as well as exterior details. Some of the interior views are a bit on the dark side, taken without flash to avoid the extra-dark shadows cast by flash, but they're still very usable so this isn't a criticism. I wish I had had this book handy when I built my own model with interior! It's back to monochrome for another five pages of in-service shots, followed by a dimensioned five-view US Army Ordnance plan of the M5A1. This is spread over four pages to allow reproduction at a large scale with a great deal of visible detail. Although the scale isn't specified it does have scale bars to allow you to measure and compare features for your models.

The final touch is another three pages of wartime photos in British Commonwealth service and one of a deturretted M5 or M5A1 converted to an APC by the Egyptian Army after the war.

Highly recommended.
---