Home > Reviews > USA > Osprey Publishing Battle Orders 21, US Armored Units in the North African and Italian Campaigns 1942-45, by Steven J Zaloga
US Armored Units in the North African and Italian Campaigns 1942-45
by Steven J Zaloga
Reviewed by John Prigent

Summary
| | |
| --- | --- |
| Publisher and Title | Battle Orders 21, US Armored Units in the North African and Italian Campaigns 1942-45, by Steven J Zaloga |
FirstRead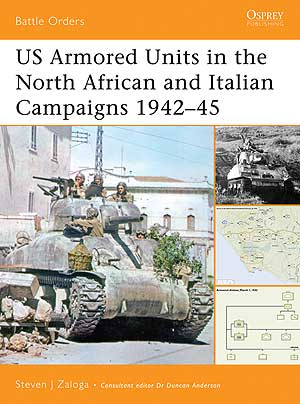 This is just a good, solid reference to US tank and tank destroyer units un the Mediterranean Theatre.
It begins with the situation of the Armored Force before 1942, only the infantry having been allowed to have tanks in the early days with the cavalry restricted to "combat cars" that were tanks under another name. Only a few new-build vehicles had been possible until late in the 1930s, but the US Army kept an eye on developments in Europe and tried to follow foreign ideas in its own designs. Unfortunately the foreign ideas concerned were French and great confusion was caused when the Panzers defeated France's armour and tactics. All is covered here, from the infantry/cavalry arguments, and the debatable decision to use tank destroyers instead of equipping tanks with a gun to defeat enemy armour, to the problems of producing modern medium tanks in quantity when America was forced into the war.

The new tanks and tank needed Armored Divisions and the organisation of these is covered in detail, with the changes in the war years. Plenty of tables show unit compositions for all components of a division down to company level, and more tables list M3 and M4 tank strengths in Tunisia at intervals from February to May 1943, and 5th Army armoured vehicle losses broken down by type at intervals from 1943 to 1945. Command and control is discussed, with emphasis on radio communication and equipment.

Then there's a long chapter on tactics, starting with the amphibious landings in Morocco and Algeria and also dealing with Tunisia, Sicily, Salerno, the Volturno River fighting, Anzio, and Northern Italy. These are in-depth analyses, with good maps accompanying their texts. After a brief look at the lessons learned, the book ends with a chapter listing the units of both 1st and 2nd Armored Divisions with their commanders and "potted histories", and similar notes on the Separate Tank Battalions and Tank Destroyer Battalions.

There's a good selection of wartime photographs, some in colour though anyone with a large reference collection will find most of them familiar. That's not a drawback since this isn't a modellers' photobook but a very valuable reference book.

Highly recommended!

Thanks to Osprey Publishing for the review sample
---