Home > Reviews > USA > Osprey Campaign 175 - Remagen 1945, Endgame against the Third Reich, by Steven J Zaloga, Illustrated by Peter Dennis
Campaign 175, Remagen 1945, Endgame against the Third Reich
Reviewed by John Prigent

Summary
| | |
| --- | --- |
| Publisher and Title | Campaign 175, Remagen 1945, Endgame against the Third Reich, by Steven J Zaloga, Illustrated by Peter Dennis, Osprey Publishing Ltd |
FirstRead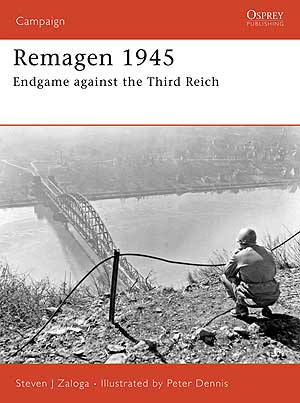 The Remagen fighting is best known to tank enthusiasts for the presence of the T26E3 Pershings of 14th Tank Battalion, but they saw no tank-versus-tank fighting in this engagement.
Instead this book covers the US advance to the Rhine, the fortuitous discovery by a recon unit that the bridge at Remagen had not yet been blown, and its successful seizure by Company A of 27th Armored Infantry Battalion. The partial detonation of one German demolition charge did prevent any tanks from crossing until its crater had been filled, but the infantry and engineers cleared the bridge and its immediate surroundings including its exit tunnel. The hill over the tunnel caused higher casualties, but was taken, and reinforcements arrived to widen the bridgehead. The unlucky officers commanding the defence were, of course, shot after courtmartial for their failure either to defend or to blow the bridge.

German counterattacks were piecemeal and ineffective, due in no small part to the lack of fuel for tanks, artillery tractors and troop trucks.

The book continues with the US buildup and breakout from Remagen and the resulting encirclement of the Ruhr and surrender of Army Group B. All this is very well described, with maps, colour plates and a good selection of photographs.

Recommended to all students of the end of WW2.
Thanks to Osprey Publishing for the review sample
---