Home > Reviews > USA > Pen & Sword Military Armoured Warfare in the Battle of the Bulge 1944-45 by Anthony Tucker-Jones
Armoured Warfare in the Battle of the Bulge 1944-45
Pen & Sword Military
by Anthony Tucker-Jones

Reviewed by Al Bowie
Summary
Title:

Pen & Sword Military
Images of War series
ARMOURED WARFARE IN THE BATTLE OF THE BULGE 1944-45
by Anthony Tucker-Jones

ISBN:

978-1-52670-175-6

Media and Contents:

Soft cover; 140 pages with B&W photos and historical text

Price:

GBP£12.00 plus shipping available online from Pen & Sword's website

Review Type:

First Read

Advantages:

A good photo history of the Battle of the Bulge.

Disadvantages:

Minute coverage of the British contribution.

Recommendation:

Recommended
FirstRead

The latest title in Pen & Sword's popular Images of War range of books covers a well-known subject – The Battle of the Bulge - and more specifically armoured warfare within that campaign.
Anthony Tucker Jones has written a few titles for this fast growing series and this one adds to the line with a good concise history of the campaign which is far more to the point than a lot of the supposedly serios texts I have read on the campaign. It is well supported with a sway of black and white photos of the main participants the US and Germans including some I had not seen before.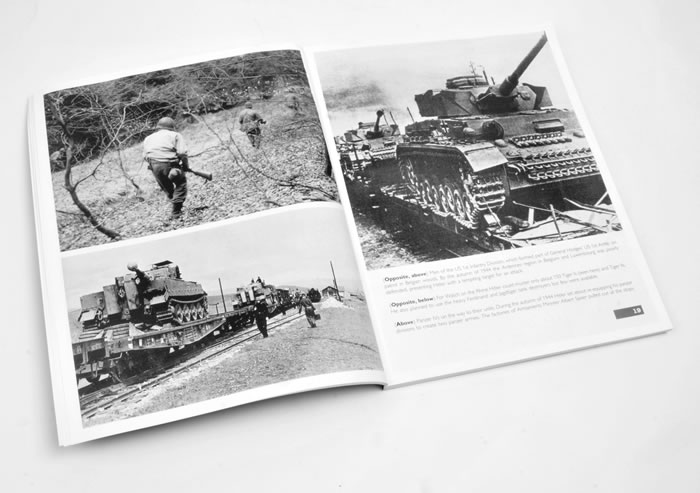 The photographs are well reproduced in high definition black and white and are chronologically presented along with excellent captions. Unlike a lot of this range it is not just a large collection of photos. The Author has presented a excellent concise history of the campaign which was easily digested and not light on detail.
If I have one complaint it is that the British contribution, which is generally airbrushed out of titles on the Bulge, is only covered in two photos and these are commonly seen images. There are plenty of images of other British formations involved that could have been used. This, however, is a small distraction from an otherwise excellent title. It is great value too.
This book should appeal to the casual history buff, interested family members of veterans, armour enthusiast and modeller alike. It gives a better than average background history and present an excellent array of photos to go with it.
Review sample supplied by Pen & Sword
---
---