M114A1 CRV
Takom, 1/35 scale
Reviewed by Cookie Sewell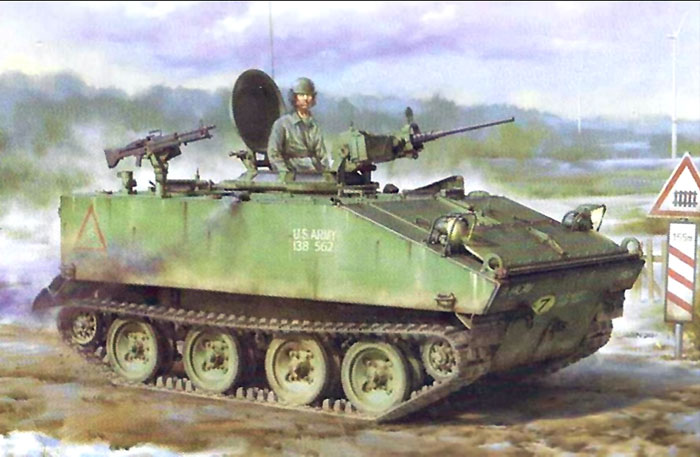 Summary
Stock Number and Description

Takom Kit No. 2148 - M114A1 CRV

Scale:

1/35 scale

Media and Contents:

245 parts (229 in grey styrene, 9 clear styrene, 6 etched brass, 1 section of twisted brass wire).

Price:
US$39.95
Review Type:

First Look

Advantages:

First kit in styrene in this scale of a niche armored vehicle; very nicely done.

Disadvantages:

Only framework of the interior provided.

Recommendation:

Highly Recommended to all Cold War US armor fans.

Background
In 1954 the US Army, as it contemplated what it wanted the future force to look like, drafted studies for developing a new standard armored personnel carrier and a companion command and reconnaissance vehicle. These emerged in 1957 as the T113 armored personnel carrier (APC) and the T114 command and reconnaissance vehicle (CRV).

After five years of development they emerged as the M113 APC and the M114 CRV. While somewhat similar in shape, the two vehicles shared nothing in common. The M113 could carry a full squad of 10 or 11 troops and a crew of two; the M114 carried a commander, driver and scout with an extra seat for any additional soldiers needed. An initial call for 615 M114s was carried out before it was decided they needed to have an "under armor" capability for the commander to use the .50 caliber machine gun. Trials with an enclosed cupola with the awful M85 machine gun did not work so a new cupola, the XM26 with a remote control M2HB machine gun took its place. This became the M114A1.

Later, for increased firepower, a new mounting with the M139 20mm machine cannon adapated from aircraft weapons was used as the XM27; the new vehicle was dubbed the M114A1E1 or later M114A2. A total of 615 M114 and 3,095 M114A1/M114A1E1 vehicles were built.

The idea was for these vehicles to be allocated to armor and mechanized infantry battalions as scout vehicles (usually platoons of five each) for reconnaissance to replace armored cars and halftracks. But after 80 of them were sent to Vietnam for in-depth testing they were found to have serious problems.

The worst one was the design of the hull; coupled with its short wheelbase and bow shape when driven into a ditch it tended to get stuck and require help to extricate itself. While it was powered by the legendary Chevrolet 283 engine, it tended to have problems with both its engine and Hyddramatic transmission. Finally the tracks were found to be flimsy and not very durable.

FMC offered up a sawed-off version of its successful M113 as the "M113 1/2" CRV which was based on the better designed M113 hull and used standardized parts from that vehicle, but the Army was not interested. It was sold to the Netherlands and in a modified form became the Canadian Lynx carrier.

While GEN Creighton Abrams hated it and demanded it be dropped from the inventory in 1973, due to its wide deployment it took until 1979 to get them out of the Army. At Fort Riley in 1975, I had one blunder into my site as it was lost (and my troops screamed we had a "big f****** tank" in our wire!). This one was from 1-2 Infantry, one of the1st ID's divisional mechanized infantry battalions.
---
FirstLook
While there have been M113 kits out from many manufacturers (Tamiya, Italeri, AFV Club and Academy among others) this the first styrene kit of the vehicle to appear on the market in this scale. (ROCO had an HO one 50 years ago.) As with all Takom kits, it is very comprehensive and has a lot of details covered including the separate rims for the outer road wheels. While it comes with the firewalls and internal dividers there is no interior provided. The unique rubber and steel bar tracks are very nicely done and the kit comes with templates to get the right "sag" in the runs of these tracks.

Assembly begins with the lower hull and road wheel arms as well as shocks. The directions get a bit squirrely as they show the templates installed on the suspension to assemble the tracks at the same time the wheels are installed, but most people can figure out the order is: stick on templates, assemble tracks, remove templates, install wheels, and install tracks.

The hatches are all separate but as noted they open up on…nothing. While the fittings for three M72 LAW launchers are provided on the rear hatch, no LAWs are included. Note that three holes must be drilled in the top plate (G4) in order to install the splash ring (B1) on the hull roof. Oddly there are nearly all of the mounts for internal components molded into the hull elements but no parts are included other than the firewalls. Ditto the engine deck and engine hatch.

The vehicle is fitted with the standard US Army headlights of the period (four – two IR and two "white") and these and a splash board mounted on the upper glacis. Armament consists of an eight-piece infantry M60 machine gun on a pedestal and the 18-piece remote control M2HB on the commander's cupola.

Finishing options – all in semigloss Olive Drab – include: B15, 1-14 ACR, Fulda, 1965; B5, 2-60 Infantry, 9th ID, Fort Riley, KS March 1966; 1st Battle Group, 13th Infantry, 8th ID, Exercise "Golden Arrow", Germany, January 1965; Opposing Force ("Circle Trigon"), 3-77 Armor, 5th ID, Fort Carson, CO July 1967. A complete decal sheet is provided for all options. All color options are keyed to AMMO by MIG. For those wanting vehicles in the USAREUR MASSTER scheme, look to the companion M114A1E1 kit from Takom.
---
Conclusion
It is nice to finally have a kit of this unique if somewhat unhappy vehicle. Most of them ended their days as hard targets on ranges; Eglin Air Force Base had quite a collection of them destroyed by all sorts of weapons such as laser guided bombs and missiles in 1985.
---
Sprue Layout:
1 Length of twisted copper wire
TP 6 Etched brass
J 9 Clear plastic
F 13 M2HB machine gun
G 64 Small details, M60 machine gun
C 9 Hull, track templates
A 64x2 Wheels, tracks, suspension components
B 15 Interior, M26 cupola, hatches
---