Home > Reviews > USA >
Tamiya Kit No. 35359 - U.S. Medium Tank M4A3E8 Sherman "Easy Eight" Korean War
U.S. Medium Tank M4A3E8 Sherman "Easy Eight" Korean War
Tamiya 1/35 scale
Reviewed by Cookie Sewell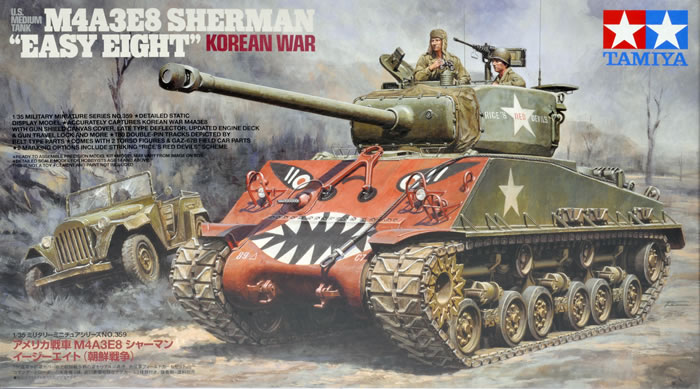 Summary
Stock Number and Description

Tamiya Kit No. 35359 - U.S. Medium Tank M4A3E8 Sherman "Easy Eight" Korean War

Scale:
1/35
Media and Contents:

423 parts (333 in olive drab styrene, 68 in black styrene, 13 clear styrene, 6 vinyl caps , 2 cementable vinyl track runs, 1 length of black nylon thread).

Price:
USD$53.95
Review Type:
First Look
Advantages:

Clean, fast-building "Tamiya-Quality" version of the late production E8 suspension tank with 76mm gun; all late changes added into original kit; GAZ-67 bonus kit.

Disadvantages:

No etched brass options; very limited decal sheet selection; purists will note solid guide teeth on track runs

Recommendation:
Highly recommended for

all "Shermaholics" and modelers who do not like kits with lots and lots of parts!

B a c k g r o u n d
At the end of WWII the US Army had a large number of M4 series medium tanks on hand but as was seen during the evolution of combat in that war 90mm gun tanks were going to be the future. As a result many M4 tanks were reconditioned and sold off or given away as Military Assistance Plan tanks to other countries. A number remained on hand and were given to reserve or second line units.
When the Korean War broke out in June 1950, the only readily available tanks to deploy to Korea were M24 Chaffee tanks. Due to poor maintenance, poor training and flatly being overmatched by KPA T-34-85 tanks, a decision was made to quickly deploy M26 and M46 tanks to Korea to deal with them. But in the interim, Sherman tanks were gathered up and formed into the 8072nd Provisional Tank Battalion to be sent to Korea. Later, reorganized as the 89th Tank Battalion, it consisted of three companies of M4A3E8 76mm gun tanks, one company of M26 Pershings, and a fifth company formed from "orphan" M24s left over from destroyed units.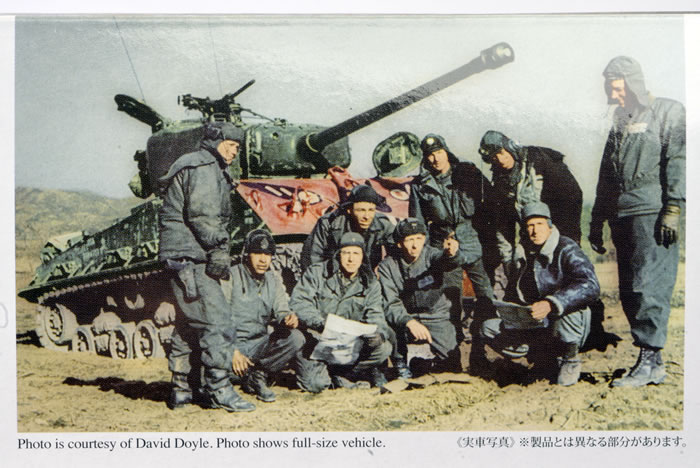 Best known of all of the elements was C Company, a Sherman unit led by a Captain Rice and with a special paint job with a red devil's face on the glacis and transmission cover of the tanks. Dubbed "Rice's Red Devils" it received a great deal of photo coverage early in the war. US troops heard that Chinese and Korean troops were superstitious over devils and dragons, so a number of American tanks (M4, M24, M26 and M46) were painted with those motifs.
This particular paint scheme was part of the first DML M4A3E8 kit, No. 9009, Korean War with "Rice's Red Devils" markings. This kit had over 700 parts with a small fret of etched brass and single link T66 tracks, but had some "soft" molding and a few of the parts were scrimped on.
---
F i r s t L o o k
In the early 2000s a new company appeared, Tasca (now Asuka) that concentrated nearly completely on M4 medium tank variants. Their comparable version included kits like No. 35-023, M4A3E8 Sherman "Easy Eight" (Korean War). But this kit went to enormous lengths of details and had 1,163 parts, many of which were the tracks with separate guide teeth and pads (572 of the parts were the tracks alone). The details were very nicely done, but the kit was "fiddly" with nearly 20 parts per bogie assembly and semi-working suspension.
Tamiya has now made life easier for Korean War fans with a new kit of the late production M4A3E8 in the "Rice's Red Devils" markings. Based on their earlier kit (No. 35346) it adds or changes out some 80 parts and also adds in a "target" – the 1973 vintage GAZ-67B kit less its figures.
Like the first kit the lower hull now comes in six parts with a firewall and SPONSONS and fenders attach to it. But unlike the first one it adds a new mold M2HB gun of 19 parts and an 8 part mount for that gun (take that, Asuka!!) This kit also adds a new exhaust deflector assembly from late production tanks and the very late war canvas cover for the mantlet; while the gun is moveable once the cover is added the gun is fixed in elevation (the directions do point that out!)
Bogies consist of eight parts each. This kit swaps out the T66 cast tracks for T80 plate-style tracks, but the purists will note that since they are molded as a single run the guide teeth are left solid. (DML solved that problem by having DS tracks with separate molded guide teeth to be attached by the modeler). But as of this writing there are numerous after market track sets offered if that is unacceptable to the builder.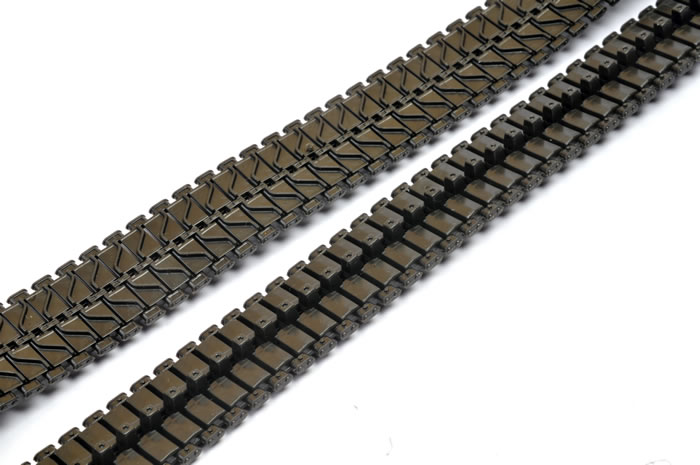 The hull halves fit together in a new and rather unique method: two pillars are used to attach to the sponsors/fenders and a mount is in place at the rear for another pin to fit it. The front of the hull slides into place under the bolt strip of the transmission cover. From the looks of things it looks suspiciously like a motorized version of the kit will be offered as motor mounts and fittings are present inside the hull, and this "snap together" feature is not needed for a static model.
The gun is nicely done (one piece barrel) with a three part muzzle brake with separate center deflector. The new mantlet cover comes in four pieces but is beveled for a good snug fit around the mantlet so should not need much in the way of putty to fit; a coat of roughener like Mr. Surfacer will help give the impression of canvas.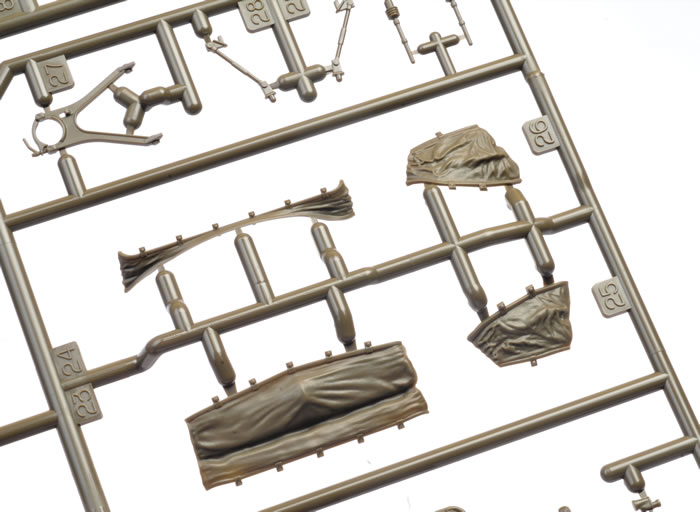 The commander's cupola has clear styrene inserts and also a pair of clear styrene goggles is provided for the commander half figure. However, this kit has a new commander figure with the fur flap cap and no goggles, and also provides a half figure of the loader as well with a helmet. The very nicely done set of details is include such as styrene periscope guards and the complete stowage rack and clips for the M2HB machine gun.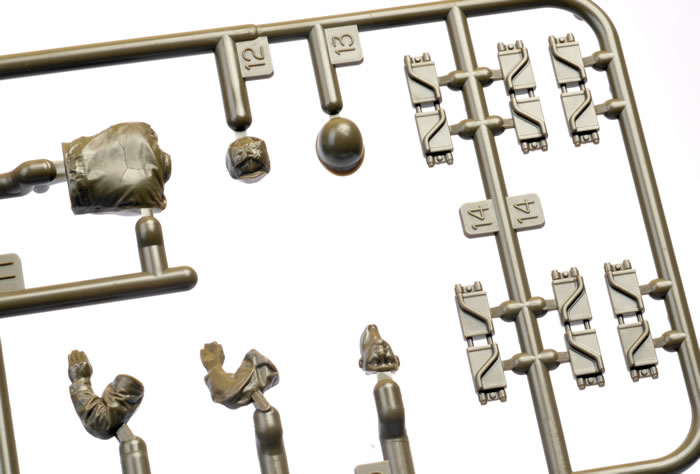 Many details are finely executed such as the aforementioned periscope guards and all of the light guards, so many modelers will not feel they "must" use etched brass to get a realistic looking model.
The GAZ-67B is the same kit from 45 years ago, but it is nice for that time and makes a useful "foil" for a small diorama.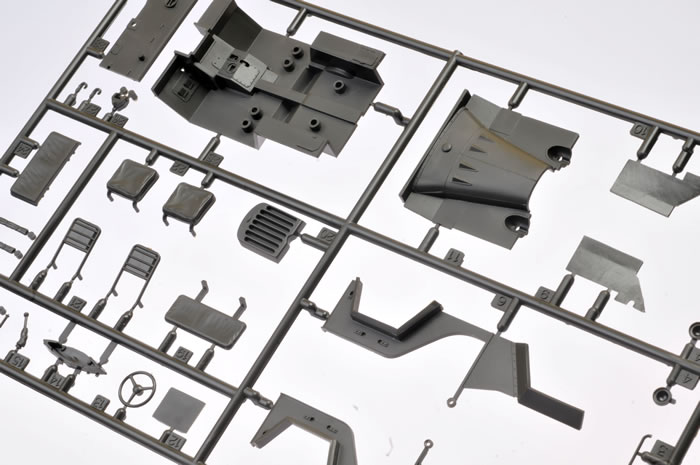 The box art shows an abandoned one next to the tank.
---
M a r k i n g s
Finishing options again are very Spartan; you have either markings for the colorful "Rice's Red Devils" tank – C7, 89th Tank Battalion (you paint the glacis and transmission cover red, they provide the eyes, nostrils and teeth) or a generic tank from the 70th Tank Battalion, 1st Cavalry Division, in olive drab with stars and only a battalion code.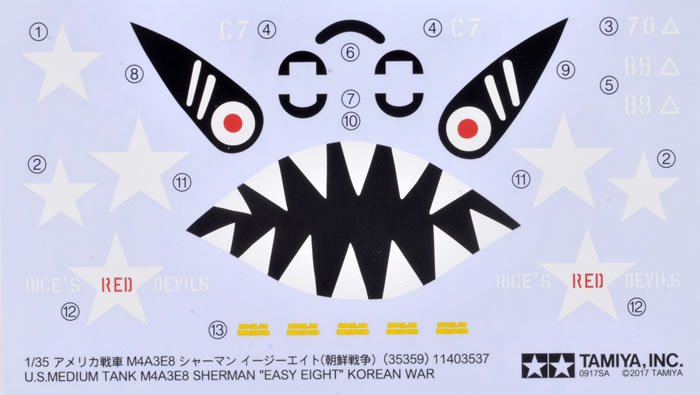 No markings are provided for the GAZ-67B.
---
Sprue Breakdown
A 66x2 Suspension, fender braces
AA 19 M2HB machine gun
AB 8 M2 machine gun mount
J 2 Upper hull
K 56 Turret base, cupola, hatches, gun assembly, details
K1 1 Turret shell
L 57 Sponsons/fenders, transmission cover, hull details
N 10 Clear styrene
P 6 Lower hull assembly
S 33 A3 engine deck, hull rear, mantlet cover, exhaust deflector
T 19 Commander, loader, spare track links, travel lock
V 2 Cementable vinyl track runs
– 6 Vinyl caps
- 3 GAZ-67 - clear styrene
- 34 GAZ-67 – wheels, chassis, suspension, machine gun
- 34 GAZ-67 – body, seats, details
- - Length of black nylon string
---
C o n c l u s i o n
Overall this is a great "weekend" kit (which will take most upgrades for those that wish to find and fit them). Korean War Shermans had more variation in markings than many others to include Canadian Lord Strathcona's Horse as well.
Text and Images by Cookie Sewell
Page Created 7 October 2018
Page Last Updated 7 October, 2018