M3A1 Scout Car
Tamiya 1/35 scale
Reviewed by Cookie Sewell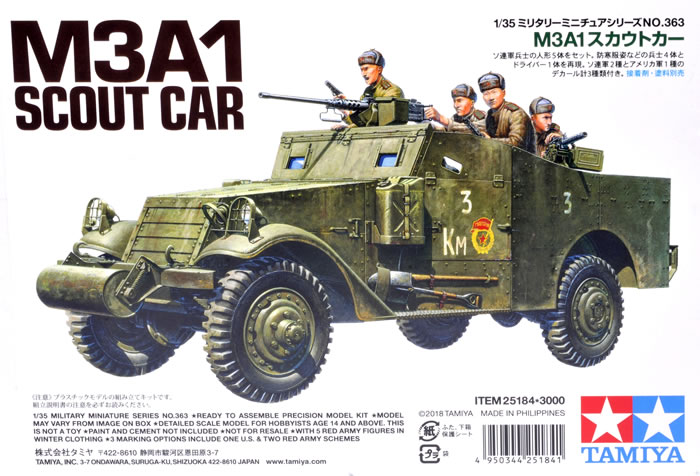 Summary
Stock Number and Description

Tamiya Kit No. 35353 - M3A1 Scout Car

Scale:
1/35
Media and Contents:

279 parts (232 in olive drab styrene, 39 in grey styrene, 4 clear styrene, 4 black vinyl).

Price:
TBA
Review Type:
First Look
Advantages:

Clean, neat kit of this popular vehicle; excellent machine guns; five man Russian crew in action poses a nice touch.

Disadvantages:

No US radio sets included in the kit

Recommendation:
Highly Recommended

to all Allied wheeled armor vehicle fans

.

B a c k g r o u n d
Prior to World War II the US Army was testing a variety of armored vehicles, one line of which were armored reconnaissance and scout cars for their newly developed armored force. The M3 Scout Car was designed in 1936 and between 1937-1939 100 were built before changing over to the improved M3A1 Scout Car. The latter had a wider body, eliminated the rear door, rearranged the seating, and an anti-ditching roller was added to the front bumper. While the cars underwent a number of modifications during production, most notably being armored wheels, twin 5 gallon "jerry" can mounts, and sliding covers for the windshield view slots. It remained in production through March 1944 and 20,894 M3A1 versions were built.
More than half of the production run (over 11,000) were allocated to allied armies, most notably being 6,987 to the Commonwealth, 3, 310 to the USSR and 104 to China.
The M3A1 carried a variety of armament, including .50 caliber M2HB machine guns and .30 caliber M1917 or M1919A4 machine guns, and most of them were mounted on clip-on mounts attached to a skate rail that ran around the inside of the body. Nominal seating was for six (two in the control cab area and six in the body, but this varied based on mission and fittings. The vehicle could carry either an SCR-510/610 radio between the front seats, or in command form an SCR-508/608 radio at the front of the body and an SCR-193 at the rear with change in seating to only two in the rear but three in the front.
---
F i r s t L o o k
More than 40 years ago Peerless Max produced a kit of the M3A1 and for its time it was a great kit. But as time went on its details such as the skate rail and massive .50 caliber machine guns did not age well; with work a good model could be made and it did at least include the tarpaulin roof. No radio sets were included in the kit.
In 2011 Hobby Boss produced pair of new kits, the early and late M3A1 Scout Cars (No. 82452 is the late version). The latter had 296 parts and was much improved over the older kit, but still had a lot of niggling detail problems and bizarre construction details to include the skate rail. Again, no radio sets were included in the kits.
As they say third time is the charm, and now Tamiya has produced a lovely and relatively simple kit of the M3A1with a wealth of detail provided in the box. It comes with one .50 and one .30 machine guns and their related ammo boxes. The machine guns are multi-piece affairs with optional opened loading gates; the M2 also offers two different barrels, one clean and one with carrying/changing handle. Tripods for each gun are included and stowed at the rear of the hull.
But once again the kit does not provide any radio sets and that is a shame. Perhaps Tamiya plans another variant in the future that is more oriented on US command vehicles; this one is optimized as a Soviet reconnaissance vehicle and to that end the kit includes a nicely animated set of five figures. They include an officer with pistol, driver, .50 caliber gunner, .30 caliber gunner, and soldier with a PPSh submachine gun. Each figure consists of six basic parts (head, torso, arms and legs) and a separate headgear; the driver has a tanker's cap and the other four have ushanka fur caps. A holster, magazine pouch and binoculars complete the figures.
Assembly is in the current Tamiya style with fussy parts "pre-assembled" in the mold, such as a single-piece driveline that only needs differentials and covers added to complete, no tiny U-joints being involved. Some parts that have seemingly been skimped on fit well enough that the openings (such as on part D-48) are hidden when installed (Italeri should pay attention to this concept!)
Wheels are two-piece styrene types and have a vinyl keeper inside them to permit easy installation after painting (and also permitting the wheels to roll).
The interior is very complete and includes pedals and levers where appropriate other than a molded-on accelerator pedal. The body stowage bins are molded with their lids closed but with a bit of work could be opened up by the modeler. There is a full fender well under them so the modeler does not have to fill or replace anything if opened up. While the doors are fixed their upper panels may be attached in either the open or closed positions, as is the windscreen cover. The directions are a bit fuzzy as for open covers you need part B-4 and for closed you use B-6, something not pointed out in Steps 15 and 16 which cover the options.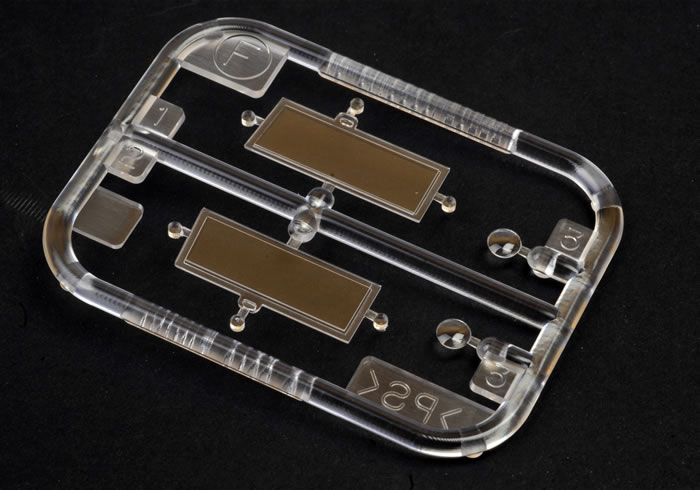 The four-piece skate rail is attached in Step 18 and needs the sliding mounts fitted before cementing the rails to the body. There are three (one front and two sides) but they are trapped within their sectors by buffers, so must be installed correctly.
No etched grills are included for the headlights, and while the plastic ones are petite you may wish to file them down before installation.
Three finishing options are included: Soviet Red Army, 3rd Guards Tank Army, eastern Germany 1945 (olive drab with white 3s and Km and a Guards badge on each door); Red Army, Prague, Spring 1945 (olive drab with white 6 underline in a triangle and motto "Avenge the Death of our Dear Commander Guards Lieutenant Irzin" on the left side in Russian); 82nd Armored Reconnaissance Battalion, 2nd Armored Division, Sicily 1943 (earth and olive drab camouflage with large ringed white stars, bumper codes 2Δ82 B-20 and name "Buster Crabbe" on both doors).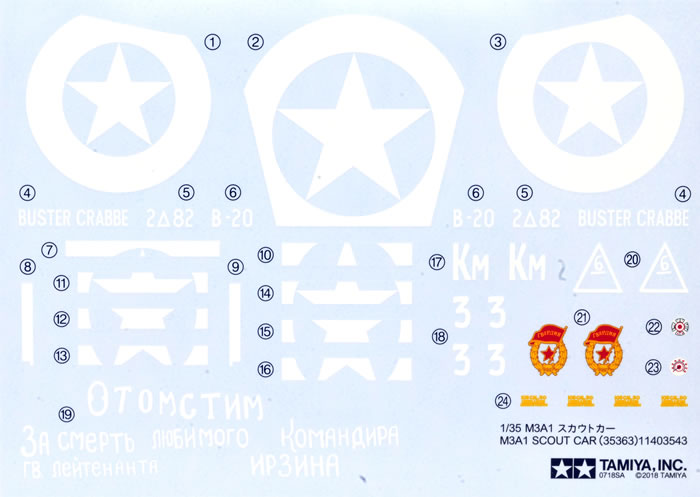 Two different star decals are included for closed or open radiator louvers.
---
C o n c l u s i o n
In summary, while a bit disappointing that no radio sets were included (as I want to do "Panther", the command vehicle of 3rd Armored Division chief of staff COL John A. Smith with the 508 set in the front and 193 in the rear) but still the best kit of the beastie so far!
---
Sprue Layout
A 51x2 Wheels and tires, seats, driveline components, body details
AA 19 M2HB machine gun and two ammo boxes
B 14 Chassis, fenders, interior components, skate rail
BA 24 M1919A4 machine gun and accessories
C 9 Body, driveshaft assembly
D 64 Driveline components, machine gun mounts, chassis components
E 39 Five Russian figures and accessories
F 4 Clear styrene
- 4 Vinyl keepers
Tamiya kits are distributed in the UK by The Hobby Company Limited

Text by Cookie Sewell
Images by Brett Green
Page Created 18 November, 2018
Page Last Updated 18 November, 2018