| | |
| --- | --- |
| Title: | Tank Warfare on Iwo Jima – David E Harper |
| ISBN: | 978-0-89747-559-4 |
| Media and Contents: | Soft cover; 96 pages with Colour and B&W photos with text and Colour Illustrations |
| Price: | |
| Review Type: | First Read |
| Advantages: | A Superb pictorial analysis of the various USMC Tanks employed during the Battles on Iwo Jima. Compiled with the modeller in mind |
| Disadvantages: | none |
| Recommendation: | Highly Recommended |
| Publisher | Squadron Signal Publishing |
FirstRead
This book is one of the Squadron Specials and is in a Vertical soft cover format of 96 pages crammed with superb B&W and Colour photos supported by colour plates representative of the Shermans used by the USMC Units that operated on Iwo Jima and notes such as excerpts from the Battalion after Action Reports.
David Harper has collected many previously unseen photos, including many colour ones of the campaign and woven these throughout the book to present a superb collection of the various USMC Tank Bns and the Japanese 26 Tank Regt. These are supported by excellent captions and a series of excerpts from the Battalion After Action reports which give a great picture of the campaign from the view of the USMC tankers.
A superb series of 14 Colour plates are given with excellent notes on colours, fittings, markings etc and an actual photo of the vehicle depicted which is superb for the modeller and an idea I'd like to see adopted as standard for this type of book. The photographs are present in a large format , typically two to a page which, allows the detail to be seen clearly.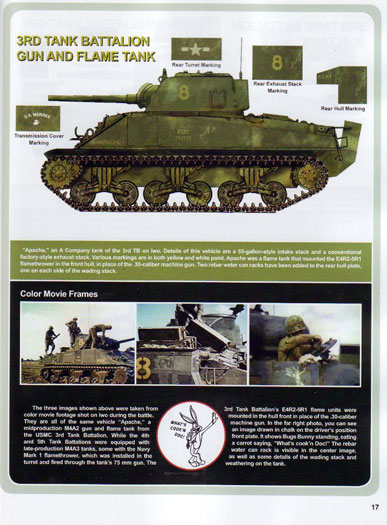 Unlike a lot of books of its genre David has a page devoted to the crews and their uniforms which again is a great help to the modeller wishing to depict one of these colourful Shermans. This book conclusively dispels the myth that Shermans were all OD with many of these sporting multicoloured camouflage and improvised armour sheeting and anti mine/grenade netting and spikes.
The book is rounded out by a series of photos of the Japanese vehicles left after the battle including an ingenious dummy tank.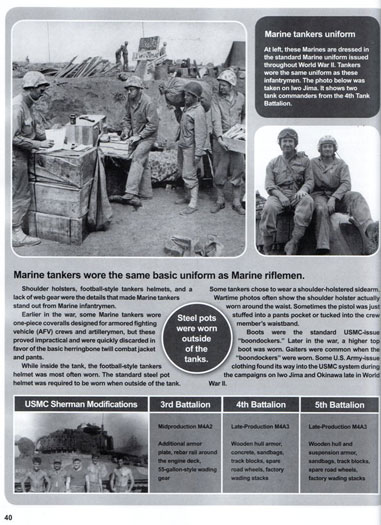 I recommend this book to Modellers of Shermans , USMC subjects and anyone with an interest in the Iwo Jima campaign. This will become an essential reference for anyone wishing to model an Iwo Jima Sherman and will finally resolve the matter of which type of Sherman is wearing what markings after many previous misidentifications in various publications. This book is a great excuse to get the Academy Marines Sherman down from the shelf and build a colourful and unique Sherman. David's timing is excellent with DML's impending release of an Iwo M4A2. It's a pity for DML that this book wasn't around earlier before they did their colour and markings options.
Highly Recommended.
Book purchased by reviewer
Text and Images by Al Bowie
Page Created 19 April, 2008
Page Last Updated 20 April, 2008