French FT-17 Light Tank (Cast Turret)
Meng, 1/35 scale
Reviewed by Brett Green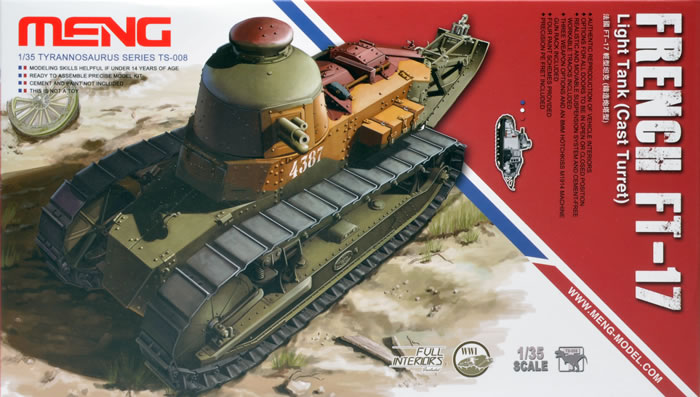 Summary
Stock Number and Description

Meng Kit No. TS008 - French FT-17 Light Tank (Cast Turret)

Scale:

1/35

Media and Contents:
340 parts in tan coloured plastic; 68 pieces in black plastic; one photo-etched fret; two cast metal parts; four springs; 2 steel rods; decal sheet with four marking options.
Price:
USD$41.99 plus shipping available online from Lucky Model and retailers worldwide
Review Type:

First Look

Advantages:

High level of detail including full interior; convincing surface textures; excellent moulding quality; oprions to permit WWI and WWII versions to be built; separate link high quality workable tracks.

Disadvantages:
Recommendation:
This is a truly state-of-the-art kit with excellent detail, and a worthy subject for such high quality treatment. Highly Recommended.

Introduction
Although the honour of the world's first tank is usually bestowed upon the British Mark I, it can be argued that the Renault FT was in fact the first standard tank design thanks to its rear-mounted engine, forward crew cab and main armament located in its fully rotating turret.
Design work commenced on the Renault FT in 1916. The FT was an innovative concept and clearly more advanced than its French competition, the Schneider CA1 and the heavy Saint-Chamond, but disagreements about the practicality and usefulness of light tanks compared to heavy tanks meant that it was not ordered into production until April 1917.
The early production version of the FT was fitted with a riveted turret that suffered from poor ballistic properties, a complex manufacturing process and the inability to fully rotate, but a later hybrid welded / riveted turret addressed these problems.

Only 84 FT tanks were produced in 1917, but by the end of the war up to 4,000 had been delivered. The French Army and the American Expeditionary Forces used the Renault FT widely and to great effect in the later months of the First World War.
Production continued post-war, with the FT being exported to a large number of countries.
By 1940, the French Army still had eight Battalions equipped with 63 Renault FTs each, and three Companies with 10 each. All of these were equipped with machine guns. These were joined by additional units also equipped with the FT, hastily formed in response to the German Blitzkrieg.
The FT soldiered on beyond the Battle of France, with the Germans capturing 1,704 examples and using some of these as late as 1944 during street fighting in Paris.
---
F i r s t L o o k
Until now, the Renault FT has not been served well by the mainstream model industry, especially considering its essential niche in armour history. The only 1:35 scale injection-moulded FT tank was released by RPM from the 1990s. This was an accurate kit, but moulding was crude with big sprue attachments and by most accounts construction was challenging, to say the least. Its greatest drawback, however, was its stiff full-length tracks.
Meng Model has now released a 1:35 scale Renault FT that is worthy of this landmark vehicle.
Meng's Renault FT comprises 340 parts in tan coloured plastic, 68 pieces in black plastic, one photo-etched fret, two cast metal parts, four springs, 2 steel rods and a decal sheet with four marking options.
Moulding is typical of Meng's high standards. Detail is moulded on to both sides of many parts. Raised and recessed surface features are really well done, but I particularly like the substantial domed rivet heads – a key feature of the FT's hull. The cast texture on the turret is very well done too.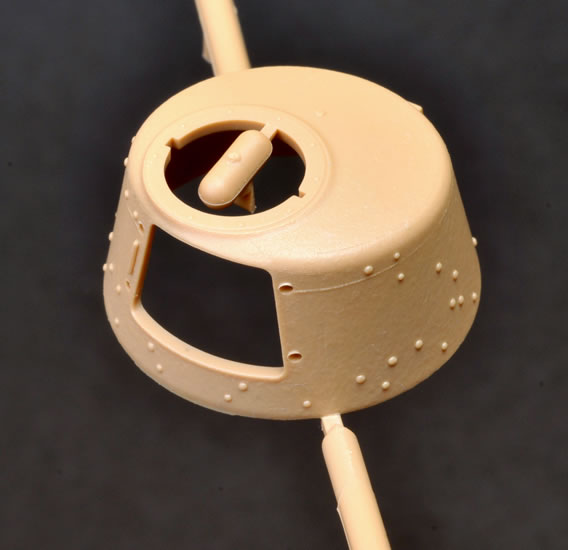 A full interior is provided – fighting compartment, turret and engine – with separate hatches that may be posed open to access all that lovely detail. These are more than basic shapes. The interior is comprehensively fitted out, and alternative stowage parts are offered for the different armament.
The hull is supplied as a flat pack, which will actually make painting, weathering and detailing the interior parts easier than a conventional hull tub.
The running is partly supported by two workable metal Vertical Spring Suspension units – quite nifty.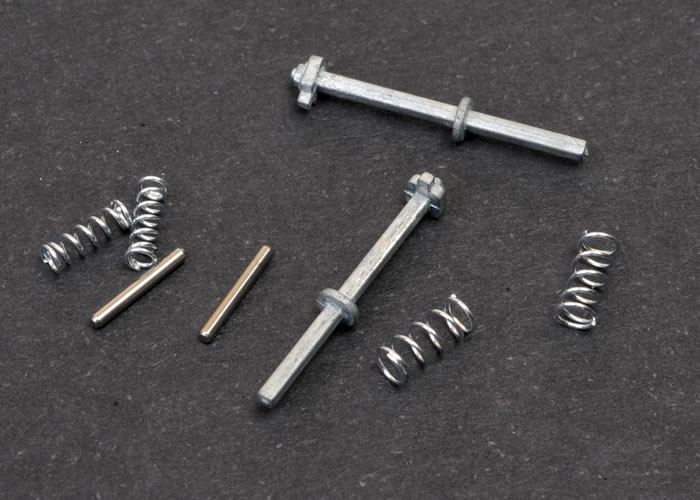 The suspension units and wheels are well detailed. I particularly like the raised casting marks on the outer running gear covers. Optional idler wheel covers are supplied. One is depicted as metal, and the other as timber.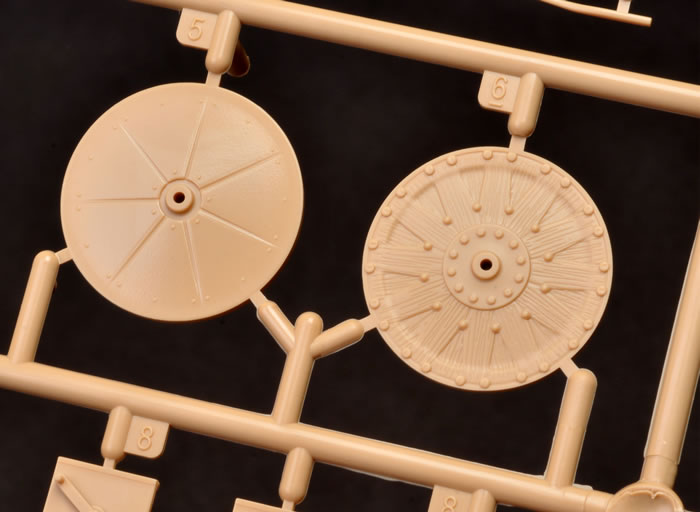 The workable track links are supplied as one part each, with only 32 links on each side, but still providing good detail including the lightening holes. The links are simply pressed together without glue. There is a small raised ejector pin blemish on the outside centre of each link, but a few seconds with a sanding stick will eliminate these.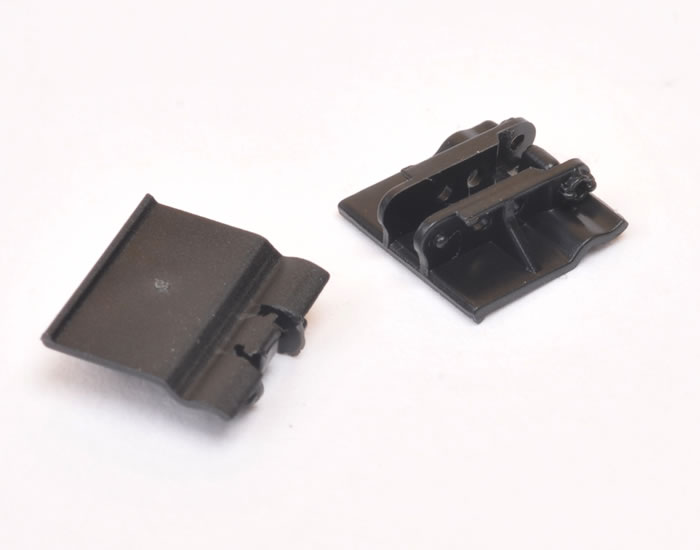 The three turret armament choices are an 8mm Hotchkiss machine gun, 7.5mm Reibel machine gun or the 37mm Puteaux SA18 cannon. The machine guns are beautifully detailed.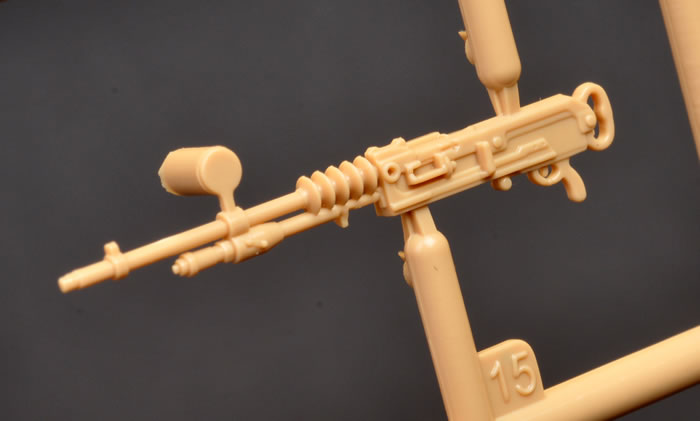 If you are not using the Hotchkiss machine gun on the turret, Meng has provided a tripod, ammunition box and ammo belt for separate display.
A modest photo-etched fret supplies the Commander's strap (seat) and some smaller details.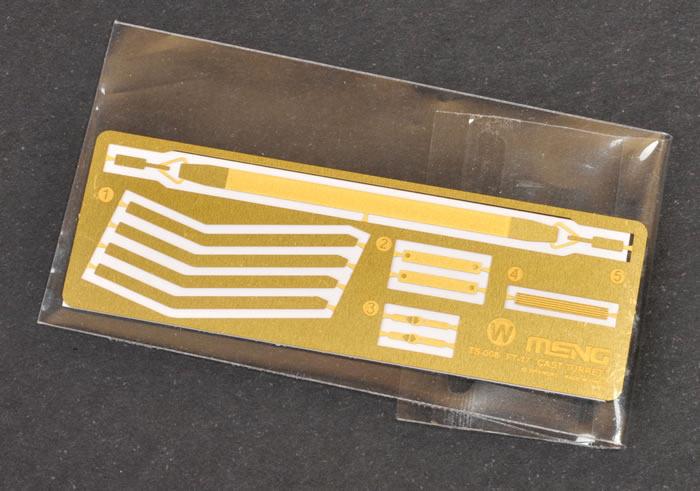 Markings are offered for four options:
French Army, 4th Platoon, 1st Company, 29th Tank Batallion, May 1940

French Army, 1st Company, 2nd Batallion, "Le Tigre" Regiment, WWI

Finnish Army, 2nd Tank Company, February 1940

Luftwaffe in France, Summer 1940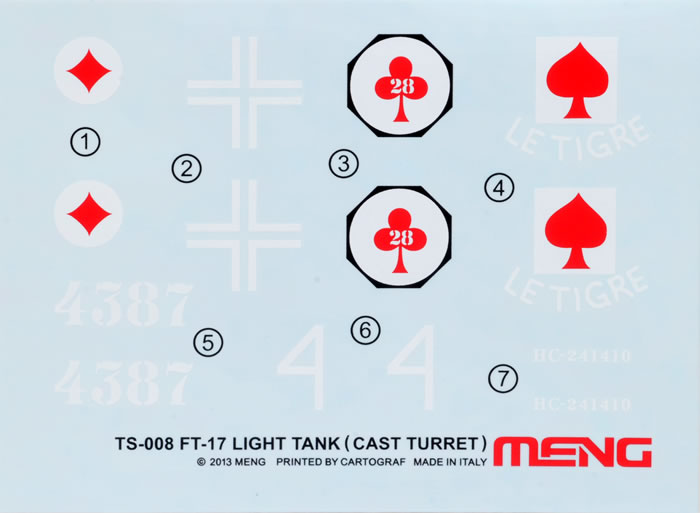 The 22-page instruction booklet is logically laid out and clearly illustrated with useful multi-lingual captions were required. Paint callouts are by Vallejo number only. It would have been nice for these to include a generic colour callout too.
---
C o n c l u s i o n
This is not the first Renault FT in 1:35 scale, but it is by far the best.
Meng has delivered a beautifully detailed kit of this landmark tank. Surface detail is state-of-the-art, and I love the simple yet well-detailed individual track links. You could really go to town with painting and weathering the interior of this model; or you could significantly simplify the build by closing up the hatches and omitting much of the interior. The choice is yours.
This is another excellent offering from Meng Model.
Highly Recommended.
Thanks to Meng Models for the sample www.meng-model.com
Text and Images by Brett Green
Page Created 1 September, 2013
Page Last Updated 1 September, 2013