U.S. Assault Tank M4A3E2 Jumbo
Meng Model, 1/35 scale
Reviewed by Al Bowie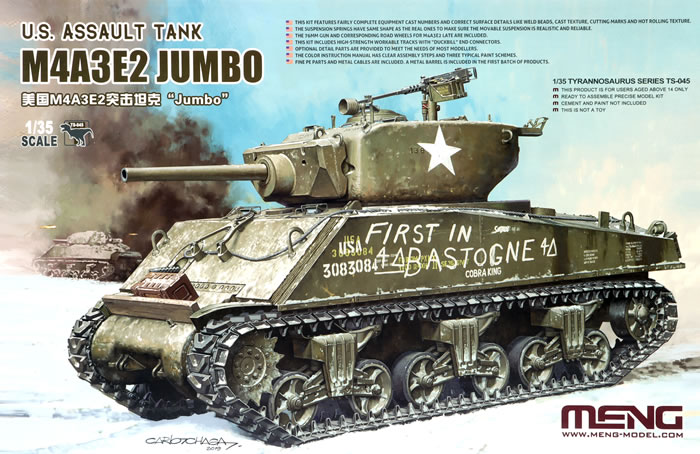 Summary
Stock Number and Description

Meng Model Kit No. TS-045 - U.S. Assault Tank M4A3E2 Jumbo

Scale:
1/35
Media and Contents:

10 Tan Sprues, 2 Clear Sprues, 2 hull parts, Wire, 12 metal working volute springs; vinyl track sections, decal sheet and small PE fret.

Price:
TBA
Review Type:
FirstLook.
Advantages:

Very accurate late production M4A3E2 kit; accurate shaped turret, mantlet cover, late engine deck: late louvered grill: optional roadwheels, sprockets: mantlet and gun types; accurate markings.

Disadvantages:
Recommendation:
In summary, this is an excellent follow-up release of a popular subject and done exceptionally well with very high detail levels, excellent options and workable suspension and running gear.

F i r s t L o o k
At some stage the need to kit a Sherman becomes too strong for most model companies and the result can be a mixed bag as the years have shown. Meng, a relative newcomer, has dipped its toes in the M4 pond and did an admirable job with their new M4A3 (76) W Sherman kit.
Hot on the heels of this, MENG has followed up with a logical expansion of their earlier M4A3 (76) and offered this M4A3E2 Jumbo Heavy Assault Tank.
This variant has previously been kitted by Tamiya and Tasca / Asuka. Meng's new release is up there with the current pack leader - the Tasca / Asuka release (again shading it in some areas).
The M4A3 with the big hatch 47 deg hull was the culmination of the Sherman development in WWII and the need for a heavier armour assault version saw the development of the M4A3E2 or Jumbo as it is popularly known today. It added significant armour to the transmission, glacis, hull sides and particularly the turret and mantlet.
It was initially armed with the M3 75mm gun when it arrived in September 1944 but a number were up armoured 76mm armed variants and used in the later months of the war in North West Europe where all of the Jumbos served with the US Armies excepting a sole vehicle supplied to the French under US command and administration. They were rushed into service in North West Europe and proved an immediate success with their ultra-thick armour giving a very good level of protection.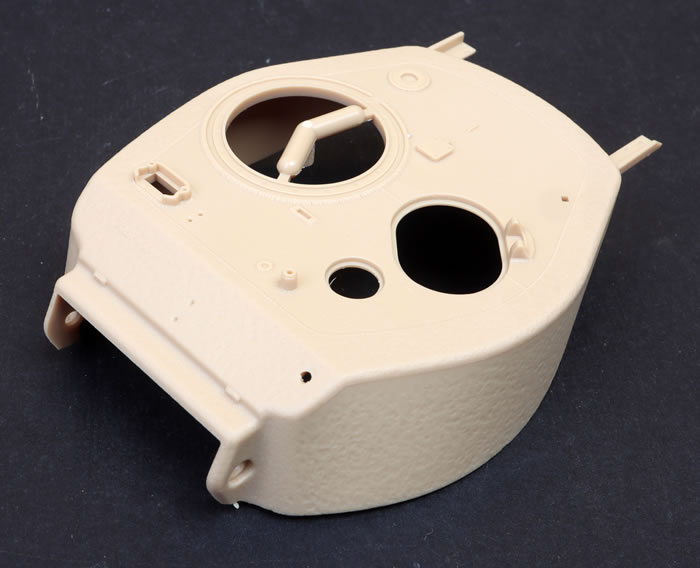 This kit may be built to depict any of the 254 produced giving all the parts necessary for the few variations that existed. Logically this kit is based on the original Meng M4A3 76 kit with a new turret, transmission and additional armour sprues etc. As such I'll just discuss the Jumbo related parts which like the rest of this kit are beautifully moulded and detailed. If you wish to read my earlier review it can be found here: Meng M4A3 76mm Review One thing I applaud MENG for in this one is the provision of full length flexible vinyl as an alternative to the individual working tracks, which are also included in the kit. Companies do listen!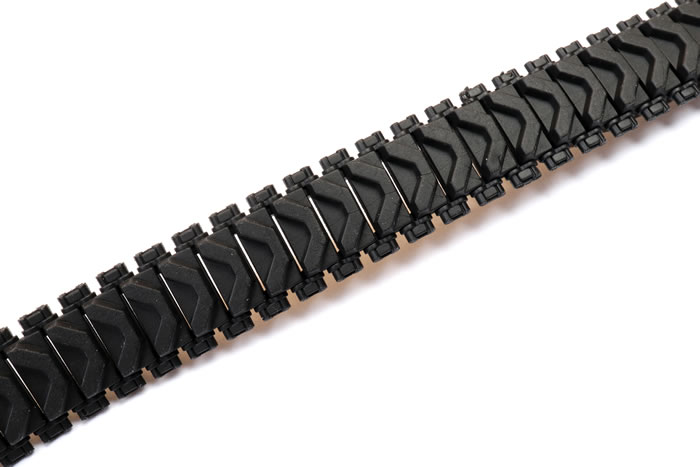 The kit has three types of road wheel, the usual pressed steel type, the welded spoke type and the smooth concave type. Looking at pictures of the real thing, I think both the smooth concave and welded spoke road wheels have slightly undersized bearings which is obvious when fitted to the bogey arm as there is little overlap unlike the real vehicle which had larger stronger bearings necessitating a larger hub. Having said that, the detail on all three is sublime with excellent weld rendition on the welded spoke roadwheel.
Meng has supplied 12 metal working volute springs.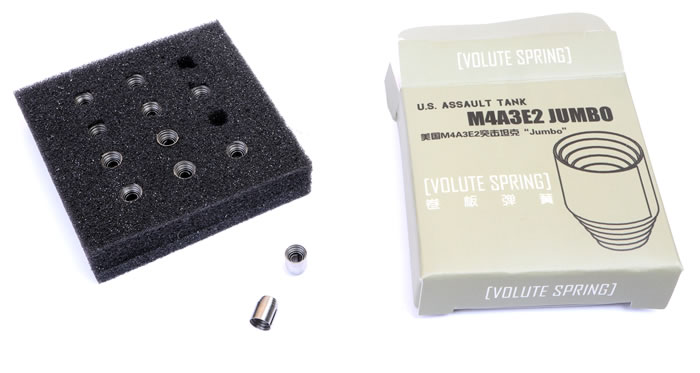 This is a nice touch.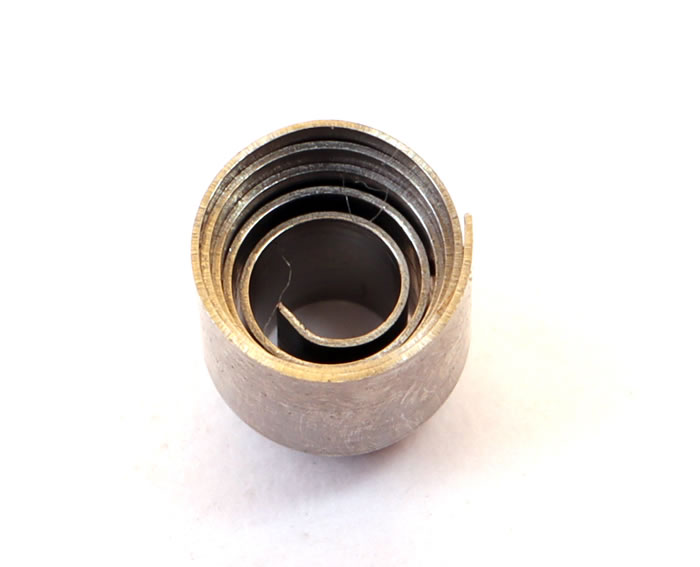 The Jumbo turret is superbly done offering unparalleled detail and a full gun breech with cage but that is the extent of the interior detail. The springs for the loader's hatch are supplied in different lengths for open or closed which is a nice touch, as is the option of a bent over antenna mount. An optional 76mm gun tube is included as a three-part assembly whereas the M3 75mm tube is one piece.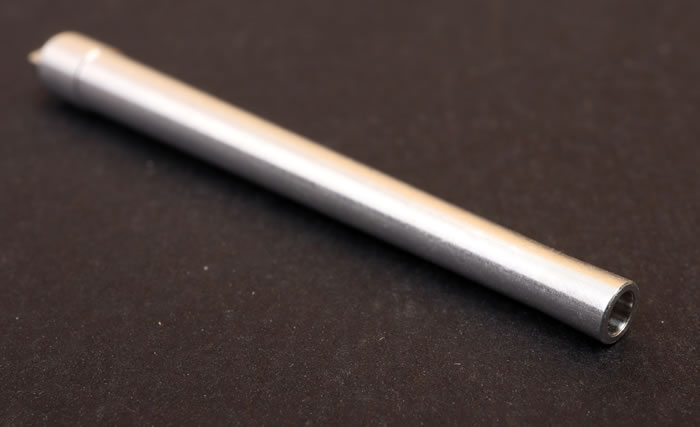 T48 tracks are supplied as either full-length flexible vinyl or the familiar individual link supplied in the earlier MENG Sherman kit. A nice jig and pre-cut track pins are supplied making it a far easier job to assemble them. Extended end connectors were almost universally fitted to Jumbos and these are included as separate parts to be glued to each link.
The hull armour is beautifully moulded with the parallel weld runs etc., however the track skirt mounting strip is moulded on and not the correct profile of the Jumbo's unique type which was an S in profile to space it away from the hull. Purists will want to shave that off and replace it.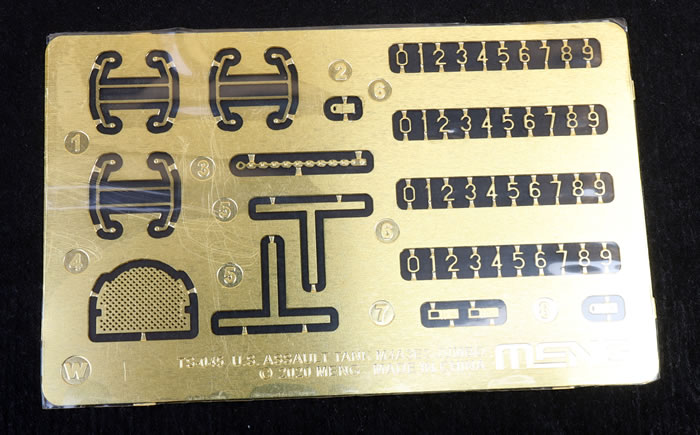 A British ammunition box seen on Option A is included. The kit instructions have you add the cover to the hull ventilator however most Jumbos did not have one with only the last 70 odd being fitted. Check your references carefully,
Decals are for 4 options are supplied with three being 75mm armed vehicles and the last having the 76mm gun.
Options are:
37 TB 4th Armoured Division Battle of the Bulge Dec 44 "Cobra King" with Chalked on graffiti "First in Bastogne"

69th Tank Battalion Mar 45 with Stalking Panther in White Stars and a large 78 on the hull side

2nd Sqn 2nd African hunter Regt, 5 Armoured Div Free French Summer-Autumn 44 France in colourful markings with the name "L FALGAYRAC"

15 Tank Battalion 6th Armoured Division Germany Spring 45 with 76mm gunb and the name "Aquino" and a large 26 and Unit crest on the hull flanks.
---
C o n c l u s i o n
In summary, this is an excellent follow-up release of a popular subject and done exceptionally well with very high detail levels, excellent options and workable suspension and running gear.
It will take a little skill in assembly and if I have any complaint it continues to be the instructions which, although printed well, are in an A5 booklet. Please go to larger A4 for we elder modellers!
A very welcome release. I for one am pleased that Meng gave the option ion of link to length or full-length flexible tracks as well.
Thanks to Meng Model for the sample www.meng-model.com
Text by Al Bowie
Images by Brett Green
Page Created 16 August, 2020
Page Last Updated 16 August, 2020