The Last Panther in Pomerania
by Rhodes Williams
References



"Achtung Panzer" "Armor Battles of the Waffen SS Willi Fey. J.J. Fedorwicz Publishing 1996
"Armour Modeling" Hiromu Araki Dai Nippon Kaiga 1994 1943-45" Vol.6. 1997

"Model Aesthetics" Model Art 1997
"Panther" Anderson &Wai Concorde Publications 1996
"Panther & Its Variants" Walter J. Spielberger. Schiffer Publishing 1993

"Panther in Detail" Culver& Feist. Ryton
"Armor in Detail no.2. Panther Ausf. A" Francois Verlinden. Verlinden Productions Publications 1998
"Military Modeling Manual " Tadahiro Sato. Hobby Japan Special Issue 1995

"Panther Model Fibel" Model Art, No.488
"Panzers in Normandy Then And Now" Eric Lefevre. After The Battle 1996
"The Verlinden Way Volume V" Francois Verlinden Verlinden Publications 1985

"WWII German Military Uniforms" Vol. 1. The Show Modelling (058) in Colour Photographs
"Waffen-SS Uniforms Andrew Steven & Peter Amodio Europa Militaria No. 6 Windrow & Greene. 1990
"Uniforms of the SS 1938-1945" Yoshihiro Terui & BSK Dai Nippon-Kaiga 1998
"Camouflage Uniforms of the Waffen-SS" Warmachines No. 16 Nick Adams Verlinden Productions. 1994
"Panzer Aces" Franz Kurowski JJ Fedorowicz. 1992
" German Infantry in WWII" Michael D. Beaver & JF Borsarello Schiffer. 1995
"Military Miniatures in Review" Vol. 2 Number 2. 1995 Ampersand Publishing
"Panther" Vol. 1 Waldemar Trojca AJ Press. 1999
"Panther" Vol. 2 Waldemar Trojca AJ Press. 1999
About the Author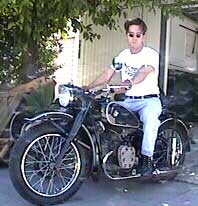 I began modeling in the UK in 1976 when I was eleven years old, building those excellent Airfix figurines and not so flash early Tamiya kits. Although, one of my very first kits was the "German Secret Strongpoint" a 1.72nd scale bunker complex. When my family moved to the United States I lost interest in the hobby for quite a few years.

During a summer back in London in 1993 I dashed into a newsagent, avoiding a bashing down rainstorm and came across an issue of Verlinden Productions Modeling Magazine (Vol. 4. Number 2). Inside was the huge diorama "Legacies II" by Bob Letterman. I was hooked. My early attempts to emulate this work were a dismal failure. However following the tips of such greats as Francois Verlinden, Young Jin Won, Lynn Kessler, Lewis Pruneau, Masahiro Doi and James Blackwell my technique improved. Fortunately, living in Los Angeles there are at least four very good hobby shops including Legends Toys and Hobbies which is, in my humble opinion, the closest thing to heaven, and I was able to easily find a great selection of kits and aftermarket sets.

I began "the Last Panther in Pomerania" in November of 1997, beginning with the construction of the Panther Ausf.G. The diorama was begun in April of 1998 and completed in April of 2000. Okay, so I work slow!

As a documentary filmmaker I travel quite a bit and for a few years my modeling time was quite restricted. Other interests include rock climbing in Yosemite, a game of golf, riding my vintage BMW hack (a sidecar to the rest), scuba diving, and playing around at the beach.

Photography



Two formats were used to photograph the diorama. 35mm Images were taken with a Minolta XD 11 mounting a Tamron 28-70mm lens with macro and f32. All Images were shot in the shade using a 1 shutter setting. The others were photographed using a 16mm digital still camera that is part of a JVC 16mm digital camcorder. This is very easy to use, just zoom and click. It's all plug and play right into the computer CPU. The digital's only draw back is that it only shots in one size and that is a three by five Image.

A Visioneer Paperport 3100 scanner was used in conjunction with Photoshop software to sweeten the Images. Photoshop is indispensable as it can actually sharpen Images, resize and compress them. Both an IBM PC and Macintosh G4 were used in the preparation of this article.
End
Page 1, 2, 3, 4 ,5 ,6 ,7 ,8 ,9